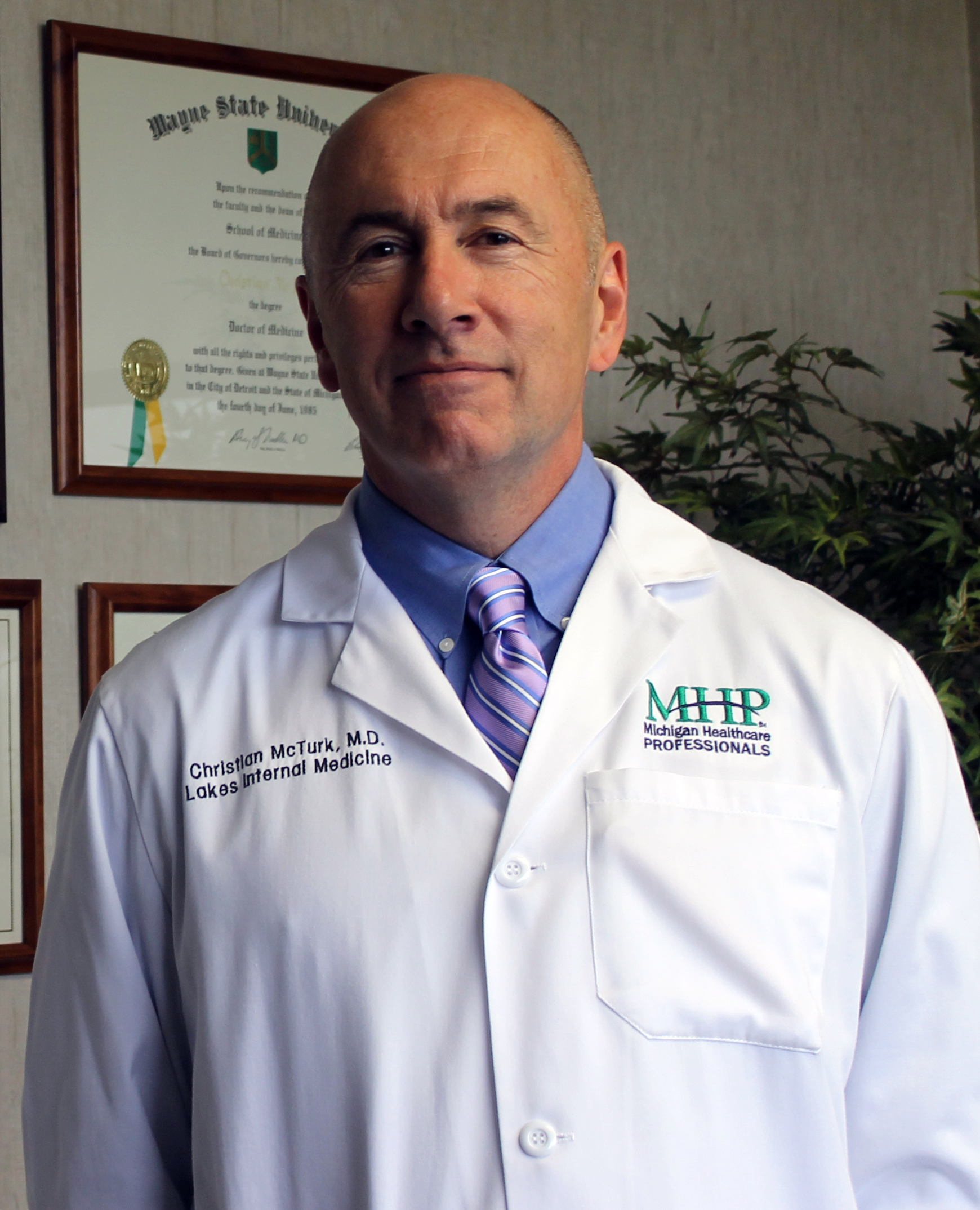 ABOUT Christian McTurk, M.D., F.A.C.P.
Dr. McTurk is a board certified internist and fellow of the American College of Physicians. After earning a bachelors degree in chemistry with Phi Beta Kappa honors, he graduated from Wayne State University Medical School in 1985. His residency was completed in Rhode Island at Brown University. In 1988 Dr. McTurk started the Lakes practice while it was under the sponsorship of St. Joseph Mercy Oakland, and served in numerous administrative capacities for the thenhospital group including, for a few years, as the medical director of Mercy Medical Group, which included as many as 40 physicians. Interests in teaching both medical students and residents led to appointment as a Clinical Assistant Professor at Wayne State University, and award for excellence in clinical teaching from the residents of St. Joseph Mercy Oakland in 1993. In 2000, Dr. McTurk left all outside administrative duties behind to focus on the evolving Lakes Internal Medicine practice, and the much-valued partnership with the other 3 doctors. "I am extremely proud to be a part of this group, and I am honored to be trusted with my patients' care."
His interests are traditional Internal Medicine, such as hypertension, cholesterol treatment, and diabetes; and also performing minor office procedures. "The philosophy of our practice is a definite emphasis on wellness and prevention, with availability of care for illness at all times, too." Dr. McTurk is married since 1984, and he and Debra have two daughters. He is an avid advocate of liberty, sound money, and restoring the Republic; reading, writing and networking for the causes. He runs three times per week since the mid-eighties, and enjoys golf, sailing, and skiing.